Wings Over the Rockies Exploration of Flight Overview
The early explorers of Colorado and the American west inspired later generations in their relentless pursuit of the last and ultimate frontier — the frontier of flight. Indeed, ours is a heritage of legendary aerospace achievements. And it was from this rich heritage that Wings Over the Rockies emerged in 1994 as a portal to the skies and beyond; a place where persistent dreams of discovery can be made real.
Pursuing a bold new vision, we've launched our Wingspan Capital Campaign to build Exploration of Flight on a prime site at Centennial Airport in Englewood, Colorado, one of the nation's most active general aviation airports. Exploration of Flight will provide a unique exploration of all dimensions of the flight experience — both within the earth's atmosphere and in outer space.
Phase 1: Exploration of Flight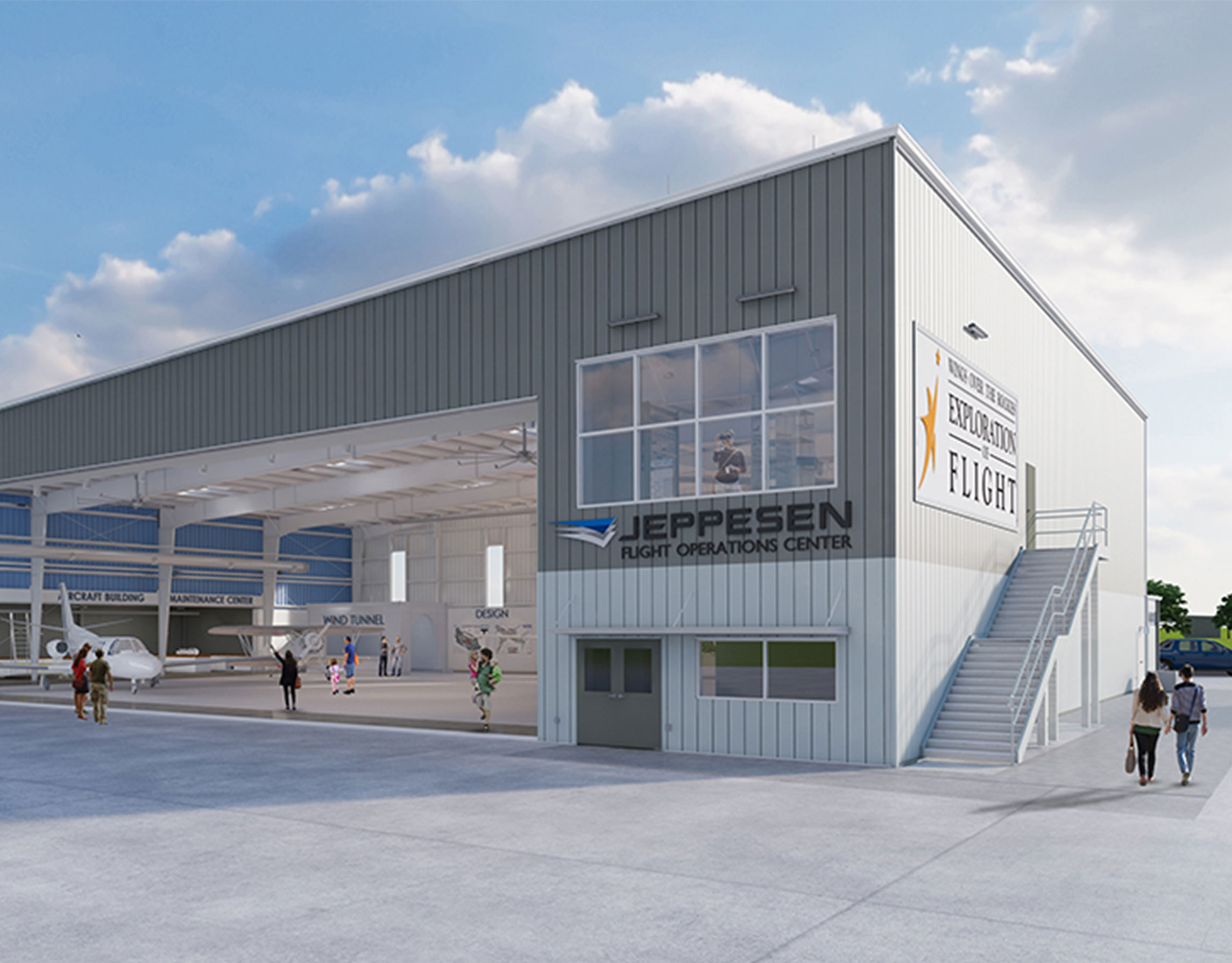 Now open, Exploration of Flight is filled with dozens of interactive exhibits and activities designed to excite and thrill while educating visitors about aviation. Watch airplanes, take off, land, listen to chatter from the tower, jump on VR headsets, learn about weather, fly pilot-quality simulators, and even experience flight itself.
Phase 2: Black Sky Gallery
Based around cutting-edge space technology and concepts, the Black Sky Gallery will be an exhibits based facility.
Phase 3: Entrance Gallery
Connecting Exploration of Flight and the Black Sky Gallery together, the entrance gallery will provide visitors unparalleled access and views of Centennial Airport and the front range.
Exploration of Flight Campus
Entranceway
Steps from the High Flight Entrance Gallery, rotating air and spacecraft will be on display in the IHS Showcase Plaza. Preflight inspections, pilot briefings and cockpit experiences will be offered, and then the aircraft will go out and fly, with live audio and video communications to Exploration of Flight visitors.
Aircraft Ramp
An active aircraft ramp of 200,000+ square feet will welcome visitors by air, as well as numerous activities year-round. Visiting aircraft, Young Eagles events, fly-ins, and more will be hosted by the Jeppesen Flight Operations Center for interactive, educational experiences.
Overhead View North
Exploration of Flight was designed from the inside out as a one-of-a-kind facility. Visitors, education program participants and corporate events guests will be immersed in all dimensions of the flight experience. Some 55,000 square feet constitute phase one of a facility designed for potential growth for its space or aviation galleries to the west and east, respectively.
Deck Views
In addition to ground level access for up close and personal appreciation of flight, outside decks beside and above the restaurant will provide compelling views of aviation and airport activity, as well as stunning Rocky Mountain vistas. A fourth level deck inside the Mayer Tower of Flight will provide a control tower ambience for nearby demonstration patterns as well as radar and radio following of aircraft throughout the Denver metro area.